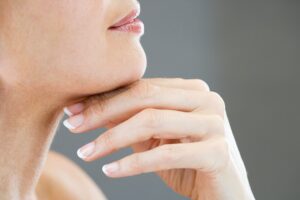 The term "jowls" refers to a collection of excess skin and/or fat that develops around the jawline. This is extremely common and is most often due to the natural aging process as the skin gradually loses elastin and collagen over time, leading to a loss of firmness and a sagging appearance. Weight fluctuations, excessive sun exposure, and even genetics can contribute to the formation of jowls, as well. They can begin to develop in middle age for many individuals, and some may not experience them until very late in life. Fortunately, there are options available that can effectively minimize the appearance of jowls and give the lower face a smoother, more youthful look while enhancing jawline definition. 
In cases of mild to severe signs of jowls, a surgical facelift can be the ideal solution for many patients. A facelift quite literally lifts the skin and tightens underlying muscles, removing excess tissue and smoothing the remainder. This can significantly reduce the appearance of jowls and give the jawline a more defined contour. Additionally, facelift surgery can diminish signs of wrinkles and folds in other areas of the lower face, as well as the upper neck. The results of facelift surgery can last many years with proper at-home skin care regimens and a healthy lifestyle. 
In some cases, patients with milder signs of jowls may not require a surgical procedure to effectively meet their goals for aesthetic improvement. Certain brands of injectable dermal fillers are capable of essentially "camouflaging" the appearance of jowls by adding volume in mid-facial regions. While this option can serve as an effective alternative to facelift surgery for some patients, it is important to note that the results will not last as long, and that it would likely not be effective for individuals with particularly severe and prominent signs of jowls. 
Dr. Robert Rothfield can determine which treatment is best for your needs during the initial consultation. The choice between surgical and non-surgical options to address jowls will ultimately come down to the severity of the concerns, the condition of the skin, and individual goals. With that in mind, jowls are not something that one just has to live with. There are advanced treatment options that can effectively reduce their appearance with beautiful, natural-looking results! 
If you have questions, or if you would like to schedule an initial consultation with Dr. Rothfield to talk more about your options, please contact Weston Plastic Surgery today.