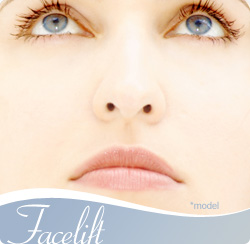 The face often portrays the first visible signs of aging. Gravity, loss of skin elasticity, environmental exposure, genetics, and diminished volume can result in the facial features of aging. Most patients requesting an evaluation for facelift feel that their facial features do not reflect their youthful spirit and energy level. For patients who are good candidates for a facelift surgery, our plastic surgeon—Robert Rothfield, MD—can design a customized surgical plan to address specific concerns and create a more refreshed and youthful-looking facial appearance. Dr. Rothfield may also recommend combining a facelift with additional procedures and non-surgical treatments to achieve optimal facial rejuvenation.
What Is a Facelift?
A facelift is a procedure that can refine troublesome areas of sagging skin, deep lines, and jowls in the face and neck. By removing and tightening the skin and excess fat deposits, and adjusting the underlying muscles and tissues, a facelift can bring about a more youthful and toned appearance. There are many different variations of the facelift procedure that Dr. Rothfield can discuss with you to help you best achieve your goals.
The benefits of a facelift may include:
A smoother, more lifted appearance in the lower ⅓ of the face
Tighter skin and the removal of excess skin
A more defined jawline
Reduction in the appearance of deep facial folds and creases
More youthful-looking neck contours if combined with a neck lift
Who Is a Candidate for Facelift Surgery?
Women and men experiencing moderate to advanced signs of aging in the lower third of the face can potentially benefit from facelift surgery. In order to determine if facelift surgery is right for you, a personal consultation with Dr. Rothfield is necessary. During this appointment Dr. Rothfield will listen to your cosmetic concerns and goals, perform a full examination of your face, review your medical history, and explain the most suitable treatment plan for meeting your expectations. In some cases he may recommend additional plastic surgery procedures, such as a neck lift, eyelid surgery, or a brow lift, to help you achieve a more comprehensive level of rejuvenation. Injectable dermal fillers and wrinkle relaxing injections (BOTOX® Cosmetic) may also be suggested for the restoration of facial volume and reduction of fine lines.
How Is the Facelift Procedure Performed?
Facelift surgery is performed under general anesthesia on an outpatient basis at the Surgery Center of Weston. The procedure typically takes three or four hours to perform. This time estimate can vary if you are having other surgical procedures completed during the same operation. The exact details of how your facelift procedure is performed will depend on the specific technique Dr. Rothfield has proposed. Generally, facelift surgery begins with small incisions made within the hairline (to conceal any residual scarring) and in front of the ear. Through these incisions, Dr. Rothfield is able to lift and tighten the deep connective tissue and musculature. Next, he re-drapes and smooths the skin over the tissue and removes any excess. Finally, the incisions are closed with sutures and the face is bandaged.
What Is Recovery Like after Facelift Surgery?
The next day after your facelift, you will see Dr. Rothfield for your post-op visit. You can expect to experience some swelling, bruising, and mild discomfort during your recovery. While prescription medication can help manage discomfort, we recommend following your post-operative care instructions carefully to assist in controlling swelling, minimizing the potential for complications, and encouraging proper healing. Dr. Rothfiled will closely follow your progress and you are encouraged to contact Weston Plastic Surgery if you ever have any concerns or questions. Bruising and swelling typically dissipates within two weeks. Most patients are able to return to work and their usual social activities approximately two weeks after surgery.
How Much Does Facelift Surgery Cost?
At Weston Plastic Surgery, facelift surgery generally costs about $10,800 for Dr. Rothfield's fee. The exact cost for your custom facelift procedure will be determined by a variety of factors that can cause the price to fluctuate, such as:
Facelift technique used
The degree of enhancement desired
Complexity of the procedure
Additional procedures or treatments included in your surgical plan
Anesthesiology fees
Surgical facility fees
Your facelift surgery estimate will be based on the specific surgical plan you and Dr. Rothfield have decided on. After your appointment, our knowledgeable office team will present you with a detailed quote for your care and answer any questions you may have about pricing, scheduling your procedure, payment options we accept, and plastic surgery financing options. Loans with flexible payment plans are available to approved applicants through trusted third-party lenders, including CareCredit®, ALPHAEON™ CREDIT, or LendingUSA®.
For more information about facelift surgery or to schedule a complimentary consultation with Dr. Rothfield, please contact Weston Plastic Surgery.
Patient Forms