Eyelid Surgery (Blepharoplasty)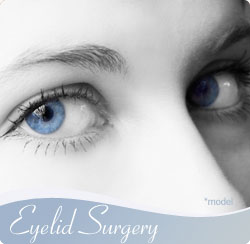 The eyes are often one of the first areas of the face to develop visible signs of aging. As the thin delicate skin around the eyes loses firmness and elasticity, wrinkles and bags can obscure the smooth, youthful contours of the eyes. For men and women who experience drooping and/or puffy eyelids that make them appear older, tired, or even sad, a customized plastic surgery procedure called blepharoplasty can beautifully rejuvenate the eyes. Our board-certified plastic surgeon, Robert Rothfield, MD, is experienced in performing cosmetic eyelid surgery and uses a variety of techniques to address multiple cosmetic concerns related to the upper and lower eyelids:
What Is Eyelid Surgery?
Eyelid surgery is an effective procedure that can create a more youthful and revitalized look around the eyes. By removing excess skin and fat in the upper and/or lower eyelid areas, blepharoplasty (eyelid surgery) can produce truly remarkable results that include:
Smoother, tighter skin around the eyes
Restored upper eyelid contour and definition
Reduction of wrinkles and drooping skin
Elimination of puffiness and bags
Correction of eyelid ptosis for improved vision
If the upper eyelid condition is also accompanied by sagging of the eyebrows, a brow lift may also be recommended. Blepharoplasty is also commonly performed in combination with other facial plastic surgery procedures and non-surgical treatments, such as facelift surgery and injectable dermal fillers, and Botox to achieve more comprehensive rejuvenation.
What Are the Different Types of Eyelid Surgery?
Dr. Rothfield can perform eyelid surgery on the upper eyelids, lower eyelids, or both depending on the type and degree of rejuvenation that is necessary to achieve your goals:
Upper Eyelid Surgery
Upper eyelid surgery can focus on addressing loose, sagging skin above the eye, as well as sculpting and removing fat deposits that cause a heavy or puffy look. The underlying musculature of the upper lid can also be tightened for a smoother, more youthful contour.
Lower Eyelid Surgery
Lower eyelid surgery is designed to reduce excess skin and fat below the eyes that create the appearance of undereye bags and wrinkles.
Your eyelid surgery procedure will be customized to suit both your needs and desired outcome. With each blepharoplasty patient, Dr. Rothfield develops a highly personalized surgical plan to deliver natural-looking symmetry and rejuvenation, while avoiding results that appear overdone or change the essence of one's signature appearance.
What Does the Blepharoplasty Procedure Entail?
Eyelid surgery is usually performed under general anesthesia on an outpatient basis at the Surgery Center of Weston. The procedure typically takes about three to four hours to complete depending on the unique details of your surgery. To avoid the appearance of visible scarring following eyelid surgery, Dr. Rothfield carefully places the incisions along the upper eyelid crease and/or along the lower lashline. With these incisions he is able to access and adjust deeper tissue (fat and musculature), as well as remove excess skin. When surgical enhancement of the lid is complete, the incision is precisely closed with tiny stitches. At the end of surgery, the eyes are bandaged to provide protection and support healing.
What Is Eyelid Surgery Recovery Like?
After eyelid surgery, you can expect to experience some mild discomfort, swelling, and bruising. Prescription medication, over-the-counter pain relievers, cold compresses, and elevation of your head can help control discomfort and inflammation. It is important to attend your post-operative visit with Dr. Rothfield the day after your surgery so that he can check on your progress and ensure you are recovering properly. For the majority of patients, bruising lasts for up to one week and most individuals feel comfortable returning to work and social activities after two weeks of healing. As you recover, it is critical to closely follow your post-operative care instructions, attend all follow-up visits, and get plenty of rest to support optimal healing. If you have any questions or concerns, do not hesitate to contact Weston Plastic Surgery as soon as possible. If you have a problem that requires immediate attention, our office team can schedule you an urgent appointment. D. Rothfield always takes a proactive stance toward treatment, as addressing small concerns early can help prevent larger, more complicated issues from developing.
How Much Does Blepharoplasty Cost?
The cost of blepharoplasty will vary depending on the patient, the extent of the work required by our surgeon, and the type of eyelid surgery. The general cost of eyelid surgery is between $4200 and $7,000. Our team will be able to give a more accurate estimate at the initial consultation when a comprehensive treatment plan can be created.
Eyelid Surgery Results
Review before-and-after photos of Dr. Rothfield's eyelid surgery patients by exploring our digital photo gallery.
Additional Eyelid Surgery Frequently Asked Questions
Is eyelid surgery covered by insurance?
Eyelid surgery will likely only be covered by insurance if the reason for the procedure is due to a medical condition that is impairing your vision. Oftentimes, if eyelid surgery is being sought out for strictly cosmetic purposes, the insurance company will not help with the total cost. Our team will be able to help you review your insurance policy at your initial consultation to determine if coverage is available. Our practice also offers several financing options that can aid patients in managing the overall cost of eyelid surgery.
Can I get an eyelid lift without surgery?
While there are alternatives to eyelid lift surgery, there are no nonsurgical options that can replicate the results that are achieved through the surgical procedure. Injectable fillers are often the most sought after alternative to eyelid surgery and can be less invasive. BOTOX® Cosmetic is a popular injectable treatment that is aimed at relaxing facial creases and smoothing out wrinkles to provide a more youthful and vibrant facial appearance.
Will eyelid surgery improve my vision?
Eyelid surgery is not designed to improve the vision of patients and is instead focused on enhancing the overall aesthetic appearance of eyelids. In some cases where the drooping or loose eyelid skin is obstructing a person's vision, eyelid surgery can improve their sight by removing the excess tissue, therefore expanding their field of vision.
How can I reduce swelling after eyelid surgery?
Following eyelid surgery, patients may experience some form of swelling and discomfort in and around their eyelids where the procedure took place. To reduce potential swelling, patients can utilize cold compresses on the eyelids within the first two days. To further mitigate discomfort and swelling, patients should keep their head elevated to prevent excess amounts of blood flowing to the affected area.
Patient Forms
For more information about eyelid surgery or to schedule a complimentary consultation with Dr. Rothfield, please contact Weston Plastic Surgery.

I started seeing Dr. Rothfield a few years ago after my neice and daughter went to him after going to see several Dr's. I just had an eye procedure and he did a wonderful job. I was at ease knowing he is the best. His office staffis very informative and very nice. I also want to shout out to the Weston Surgical staff who were absolutely the best. Everyone who I came in contact with there were so nice and really made me feel at ease. Thank you everyone!!!!!!!!

joan raleigh

February 01, 2017

12345