Plastic Surgeon Robert E. Rothfield, MD, FACS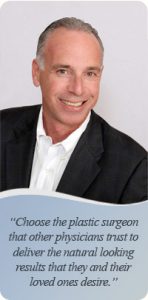 Robert E. Rothfield, MD, FACS is board-certified in plastic surgery by the American Board of Plastic Surgery. He has operated his own private practice since 1994. Dr. Rothfield received his undergraduate degree from Haverford College in 1981 and his medical degree from the University of Miami in 1986. He then completed eight years of progressively specialized training for plastic surgery. Having trained at some of the best medical centers in the country, Dr. Rothfield is exceptionally skilled at combining the art and science of cosmetic plastic surgery to provide his patients with a naturally enhanced look.
Dr. Rothfield specializes in a broad range of cosmetic surgery procedures, including tummy tuck (abdominoplasty), breast augmentation, breast lift, breast reduction, rhytidectomy (facelift), blepharoplasty (eyelid surgery), otoplasty (ear surgery), ultrasonic liposuction, and minimally invasive procedures.
A dedicated plastic surgeon, he works with each patient to develop a customized treatment plan to meet their individual goals.
For more information, or to schedule a complimentary consultation with Dr. Robert E. Rothfield, please contact Weston Plastic Surgery today.

Dr. Rothfield is an amazing surgeon!! He is honest, kind, reassuring, knowledgable and professional. His incredible staff makes you feel comfortable and at ease. I am so happy with my results. I would recommend Dr. Rothfield to everyone looking to improve themselves. I simply can't say enough about him!!

R Dasho

October 13, 2018

12345
Board Certification
American Board of Plastic Surgery, 1997 – Recertified in 2005 and 2017
American Board of Otolaryngology, 1994 
Why You Should Choose a Board-Certified Plastic Surgeon
Plastic surgery, once just for jet setters and movie stars, has become commonplace in our society. Its popularity has fueled the growth of the cosmetic industry and in the numbers of doctors performing plastic surgery. However, only a small percentage of those doing these surgeries are actually board certified by the American Board of Plastic Surgery. In fact, there are less than 10,000 surgeons worldwide with certification from the American Board of Plastic Surgery.
Board certification does not mean that a particular plastic surgeon is good. What is does mean, is that at the very least, the board-certified plastic surgeon has completed the minimum requirements that are necessary to be board certified. These requirements include completing an accredited plastic surgery residency program where the surgeon learns how to perform a range of safe and effective plastic surgery procedures. It also requires successfully passing written and oral examinations that cover all aspects of plastic surgery. Importantly, many hospitals require plastic surgeons to have board certification in plastic surgery to have privileges to perform plastic surgery in their hospital. Having hospital privileges is essential because even if the surgery being done is done in an outpatient setting, were the patient to develop some complication that required hospitalization, the surgeon would have privileges to continue to take care of their patient in the hospital.
Similar to the difference between a surgeon who is board-certified and one who is not, the difference between a free-standing surgical center or hospital and an in-office operating room is significant. One main difference is the size of the facility's budget, as hospitals and surgical centers tend to have large capital budgets that allow them to implement the latest technology and newest equipment. However, the most important difference between an office set up and a free-standing surgery center or hospital is in the ability to handle an emergency. Whereas an office facility is limited by the personnel available (i.e., one doctor, one nurse, etc.) hospitals and free-standing surgical facilities have a team of physicians and nurses available at all times.
Validating a surgeon's board certification in plastic surgery and the credentials of the facility where the surgery is done is the first step in ensuring exceptional results and increased safety.
Education
Haverford College, Haverford, PA, 1977-1981
University of Miami School of Medicine, 1982-1986
General Surgery Internship, Western Pennsylvania Hospital, Pittsburgh, PA, 1986-1987
Otolaryngology Residency, University of Pittsburgh Eye & Ear Institute, Pittsburgh, PA, 1987-1991
Plastic Surgery Residency, Baylor College of Medicine, Houston, TX, 1991-1993
Hand Surgery Fellowship, Baylor College of Medicine, Houston, TX, 1993-1994 
Professional Memberships
Broward County Society of Plastic Surgeons
Broward County Medical Association
Miami Society of Plastic Surgeons
Florida Society of Plastic Surgeons
American College of Surgeons
American Society of Plastic Surgeons
Florida Medical Association
Southeast Society of Plastic and Reconstructive Surgeons
American Society of Bariatric Plastic Surgeons 
Hospital Affiliations
Memorial West Hospital – Pembroke Pines (Chief of Plastic Surgery)
Memorial Hospital Miramar – Miramar 
Q & A with Dr. Robert Rothfield
What was your inspiration for becoming a plastic surgeon? 
As a child I loved building model airplanes. I appreciated the form and function of each plane design, as well as the subtle differences between the various models. I think that the satisfaction and joy I achieved as a child, from the hard work of concentration and attention to detail in building model airplanes, is similar to that I find as a plastic surgeon when doing reconstructive and cosmetic surgery. Both require an appreciation for beauty, for the subtle differences that exist between all patients and attention to detail. 
What do you love most about plastic surgery? 
I enjoy the ability to improve the lives of my patients through my work as a plastic surgeon. The opportunity to merge the science and the art of medicine through the discipline of plastic surgery, which requires both an understanding of beauty and science, is uniquely gratifying when seeing the smile of a happy post-operative patient. As a surgeon, I also like the diversity of plastic surgery. I operate on almost all parts of the body and treat a whole constellation of issues ranging from the aesthetic to the reconstructive.
What sets you apart from other plastic surgeons? 
Careful attention to detail, an eye for beauty and the fact that I take care of my patients along every step of their surgery. Not only do I perform the surgery, I remove the stitches, I change the dressings and I answer the phone when patients call. Plastic surgery is the most personal of surgeries and I provide the extraordinary level of personal care that it deserves. 
Are there certain accomplishments or patient cases you are particularly proud of? 
There are so many cases that I am proud of where I have sincerely changed someone's life for the better. Whether it be reconstruction after trauma or cancer or a cosmetic treatment to enhance an individual's appearance, the smiles from each patient are as meaningful to me every time. 
Do you have a favorite plastic surgery procedure?
No, I enjoy all types of plastic surgery and it is the variety of the different types of surgeries that makes it enjoyable for me!