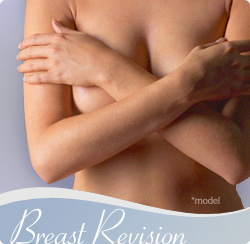 Breast surgery is among the most commonly performed surgery in the United States and sometimes the results can be less than optimal. Capsular contracture, malposition of implants, widening of the areola, size issues, and poor scarring are just a few of the many problems that can occur. Plastic surgeon Robert E. Rothfield, MD, FACS is sensitive to these problems and understands that the emotional toll on the patient can be significant. As this is a special interest of his, he sees patients who have had surgery from all over the world. From patients who have been operated on in South America (medical tourism), to patients operated on in one of the many local "centers" in South Florida, to patients operated on by respected surgeons in the local community, Dr. Rothfield has used his experience, attention to detail, and caring touch to improve the results of those patients whose outcome was less than optimal.
One of Dr. Rothfield's most common revision breast surgeries involves the exchange of saline breast implants for silicone implants. MemoryGel® Silicone Breast Implants became fully FDA-approved for use in cosmetic breast surgery in November 2006. Dr. Rothfield has been using these silicone implants and has been extraordinarily pleased with the results. Some of the advantages of the MemoryGel® silicone implants over the saline implants include better shape, more natural feel, and less rippling. Dr. Rothfield can answer your questions about the feasibility of changing from saline implants to silicone implants and help you determine whether or not this is an appropriate option for you.
Breast Implant Removal
There are numerous reasons why patients might consider removing their breast implants, including the development of capsular contracture, an interest in returning to a more "natural" appearance, or issues stemming from deflation or rupture. Regardless of the motivation, breast implant removal is often mistakenly assumed to be either impossible or result in an unsatisfactory appearance. The truth is, many women are able to successfully have their implants removed with beautiful results.
For most patients, a single surgery during which the breast implants are removed can often provide the desired outcome, including maintaining a shapely and full contour. However, some individuals may wish to add a secondary procedure to their implant removal if they desire smaller implants or a breast lift. In certain cases, patients may require a separate procedure if, after living without implants for a time, they decide they would prefer smaller sized implants.
Dr. Rothfield will discuss all available options with you during the initial consultation and help you determine the most appropriate treatment plan based on your unique needs and expressed goals.
For more information or to schedule a complimentary consultation with Dr. Robert E. Rothfield, please contact Weston Plastic Surgery today.
Patient Forms