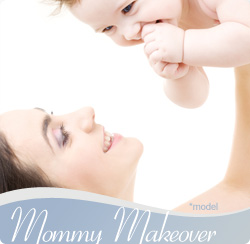 Motherhood is one of the great joys of life. Unfortunately, the toll on a women's body as a result of pregnancy can be significant. It should not come as a surprise that this toll can be even greater with twins, following multiple pregnancies, or after significant fluctuations in weight. These changes can directly affect a woman's breasts, abdomen, hips, and thighs. They can even affect the skin of the face. Diet, exercise, and weight loss alone are often not enough to regain that pre-baby body. Addressing and correcting these changes that have resulted from pregnancy has been called the "Mommy Makeover."
For more information on the Mommy Makeover procedures or to schedule a complimentary consultation with plastic surgeon Robert Rothfield, MD, please contact Weston Plastic Surgery.
Abdomen
Prior to pregnancy, women have an hourglass type of waistline. Following pregnancy, the hourglass shape becomes more square. This is a direct result of the separation of the abdominal muscles that can occur as a result of a growing baby in the uterus. The stretching of the muscle and its lining can result in a bulge of the abdomen, either up high, or down low, or both. In some instances, this bulge can even give the appearance that the woman is still pregnant. In some women, the belly button can become misshapen, and even develop a small hernia. The skin of the tummy is another area that is prone to significant changes. Stretch marks can occur or the skin can develop a cottage cheese-like appearance. A step-off can develop at the site of a C-Section scar. These are all changes that can be dramatically corrected with an abdominoplasty (tummy tuck).
Learn more about Tummy Tuck (Abdominoplasty)
Breasts
During pregnancy and in the months immediately following, the beauty of the breasts is often accentuated as they become more full and firm. However, these changes are often short-lived and the breasts can deflate and droop. The areola can widen and the skin may sag. A breast augmentation, with either a saline or silicone implant, can restore the fullness that was present during or prior to pregnancy. If the breast has become droopy and the areolas enlarged, a breast lift (mastopexy) can be added to effectively address these issues as well.
Learn more about Breast Augmentation
Hips and Thighs
"Eating for two" may result in more weight gain than is ideal. Taking off this baby fat is difficult and can lead to certain problem areas that become resistant to post-partum weight loss. These areas typically include the outer thighs (saddle bags), the hips (muffin top) and back region. Traditional liposuction or newer more advanced techniques using ultrasonic equipment can be extremely effective in restoring these areas to their pre-baby condition.
The goal of the Mommy Makeover is to restore and/or enhance the body to its pre-baby figure. It can be a single treatment or a combination of procedures and treatments that address those changes that result from child bearing. In reality, every healthy mother is a potential candidate!
For more information on the Mommy Makeover or to schedule a complimentary consultation with Dr. Robert E. Rothfield, please contact us at Weston Plastic Surgery.