What is a Breast Lift?
A breast lift (mastopexy) is a procedure that tightens the skin and lifts the nipple and areola to produce a more youthful breast contour. Pregnancy, weight changes, aging, and genetics can cause the breast skin and tissue to lose elasticity and sag. Often, the areola can dilate and become disproportionately large as well. If enlargement of the areola is a concern, it can be reduced in size during the breast lift operation.
Robert Rothfield, MD, FACS performs a variety of breast lift procedures and will tailor your operation to best suit your specific needs. A breast lift may be performed without implants or with implants (breast augmentation with a lift). The choice to use or not use implants with a breast lift is dependent upon your individual characteristics and desires. During your consultation with Dr. Rothfield he will discuss all of your options with you so that you can make the best decision possible.
If you would like to learn more about breast surgery, we invite you to explore the informational sections below:
What Are the Benefits of Breast Lift Surgery?
Breast lift surgery is a highly customized plastic surgery procedure that can address several common cosmetic breast concerns simultaneously. Depending on the specific needs and goals of the patient, Dr. Rothfield designs a unique breast lift plan that may achieve the following aesthetic improvements:
Elevate the position of the breasts on the chest wall to lift the bustline 
Reshape the breasts for a firmer, more youthful look
Reduce and/or reposition the nipples, if necessary
Add volume to the breasts (if breast implants are placed)
Create a greater degree of breast symmetry
Achieve a more proportionate figure
Based on your specific needs and goals, Dr. Rothfield will create a breast lift plan that works for you. During a one-on-one consultation with him, you will have the opportunity to discuss your breast concerns and the expectations you have regarding the outcome of breast lift surgery. Dr. Rothfield combines this information with a physical exam to explain how a customized breast lift can specifically benefit you. He offers a variety of advanced surgical techniques that can help you achieve the rejuvenated breasts you desire.
Who is a Candidate for Breast Lift Surgery?
Most often, women who are considering breast lift surgery are experiencing some degree of breast sagging they would like to correct. Skin laxity and breast volume loss are primarily to blame for these changes in breast shape and position; however, there are many reasons this may occur:
Significant weight fluctuation
Pregnancy (especially multiple pregnancies)
Breastfeeding
Aging skin and tissue
Hormonal changes
Gravity
Genetics
Women whose breasts have been affected by these conditions are typically good candidates for the breast lift procedure. Dr. Rothfield advises women that the best time for a breast lift is usually after they have finished having children in order to help maintain the results of the lift. For women with particularly large breasts, Dr. Rothfield may recommend a breast reduction surgery, which eliminates excess breast weight and volume while at the same time elevating and reshaping the breasts. 
Women who are ideal candidates for breast lift surgery must also be in good health for both surgery and proper healing. During the consultation, Dr. Rothfield will perform a complete health evaluation and review each patient's medical history to ensure she is a good fit for the procedure.
If you'd like to find out if you are a candidate for breast lift surgery, please contact Weston Plastic Surgery to schedule a consultation.
I'm 2 months post op tummy tuck/breast lift and I couldn't be happier with my results. Dr. Rothfield is extremely knowledgeable and kind. This experience has truly been amazing and I owe it all to Dr. Rothfield and his staff!

Liliana Orozco

August 21, 2020

12345
How is Breast Lift Surgery Performed?
Breast lift surgery is performed as an outpatient procedure at the Surgery Center of Weston. The procedure is done under general anesthesia and patients remain asleep throughout the surgery. A breast lift generally takes between 1.5 to 2.5 hours, depending on the specific surgical plan Dr. Rothfield employs during the operation. The incision may extend around just the areola; around the areola and down the front of the breast; or around the areola, vertically down the front of the breast, and horizontally across the breast crease. If implants are also desired, they can be placed (most often behind the chest muscle) through these incisions. Dr. Rothfield makes every effort to ensure all incision lines are as inconspicuous as possible to help minimize the final appearance of scarring.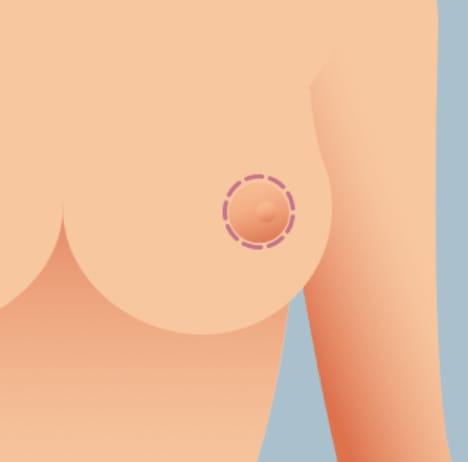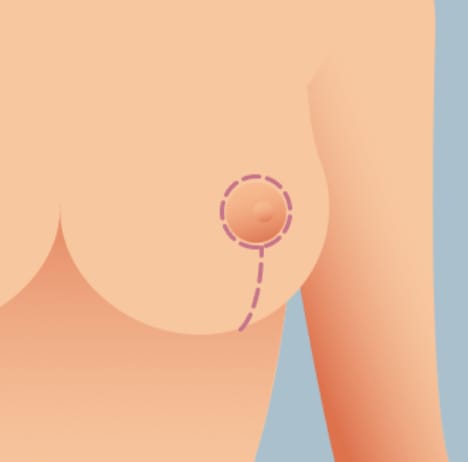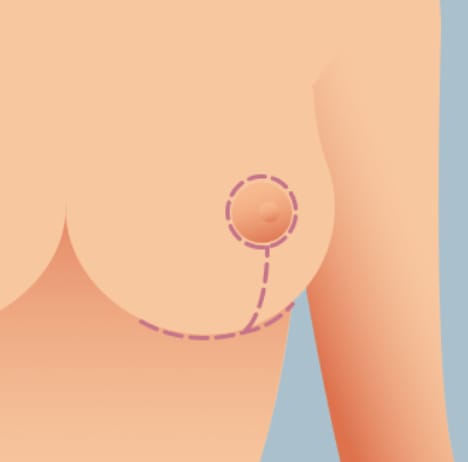 Since each breast lift surgery is customized, the techniques that Dr. Rothfield uses can vary, and he discusses the planned approach with the patient prior to surgery.
What is Recovery from a Breast Lift Like?
In addition to supplying comprehensive pre-operative preparation and post-operative recovery information, Dr. Rothfield provides the following basic guidelines for his breast lift patients following breast lift surgery:
Post-operative visit the next day
Minimal discomfort without implants OR two days of moderate discomfort with implants
Return to work/driving by the fifth day
Light exercise at end of two weeks
Full exercise at end of one month
Discomfort during recovery can be managed with pain medication if necessary, and it is very important to follow Dr. Rothfield's post-operative instructions to help minimize any chance of complications. During the initial stage of recovery, it is recommended that you arrange for a family member or friend to take you home after the operation, help you with any needs the first night, and drive you to your post-operative appointment the next day.
What Type of Results Can I Expect from Breast Lift Surgery?
Dr. Rothfield's breast lift surgery patients are generally very pleased with the results they achieve after their procedure. If you are interested in seeing examples of Dr. Rothfield's work, we invite you to view breast lift before-and-after photos taken at Weston Plastic Surgery in our digital photo gallery. Many women who have undergone breast lift surgery at our practice remark on the beautiful symmetry, natural shape, youthful lift, and inconspicuous incision lines that Dr. Rothfield was able to achieve for them.
Patient Forms
Will I Have Scars from Breast Lift Surgery?
All surgical procedures that involve incisions will leave permanent visible scars. Fortunately, with breast lift surgery, trained plastic surgeons are able to use strategic incision points in order to minimize the appearance of those scars. Furthermore, depending on the degree of drooping or sagging present, different incision patterns can be used during the procedure. Those with less severe cases of sagging may be able to utilize a more subtle incision that circles the areola (the periareolar pattern), which typically blends in inconspicuously with the surrounding tissues. In more moderate cases of ptosis, an additional incision may be utilized that extends vertically downwards from the areola towards the breasts crease (the lollipop pattern). In cases where severe sagging is present, a third incision may be added horizontally along the breast crease (the anchor pattern). Dr. Rothfield will go over the planned incision pattern with you in advance of surgery so you will know what to expect. In most cases, patients are extremely happy with the aesthetic results of their breast lift, and any scarring from the surgery should fade and dissipate significantly over time.
How Much Does Breast Lift Surgery Cost?
The cost of breast lift surgery will be different for each patient, as the details of each procedure will vary based on what is needed to obtain optimal aesthetic results. Our team will be able to provide a personalized estimate during your initial consultation. The total cost of a breast lift will account for the price of surgery, the surgeon's fee, the anesthesiologist's fee, a fee for the facility (if necessary), and other costs as needed.
Additional Frequently Asked Questions About Breast Lifts
Will I need breast implants with my breast lift?

Patients seeking a breast lift may require breast implants in order to enjoy a perkier, more youthful breast aesthetic. Dr. Rothfield will advise if he feels it would be in the patient's best interest to add implants. That said, the addition of breast implants will make the breasts larger and this should be considered in any decision.

Is breast lift without surgery possible?

There are non-surgical methods that may be able to counteract some degree of breast sagging, but no other options will compare to what can be achieved through breast lift surgery. For those looking to eliminate excess skin, reposition their breasts, and/or recontour their chest, a surgical breast lift is the only viable option that can meet their needs.

How long does a breast lift last?

Results from breast lift surgery can last for many years if a healthy lifestyle is maintained. In order to optimize the results from breast lift surgery, patients should practice good skin care, exercise regularly, avoid excessive sun exposure and tanning beds, and maintain a healthy and balanced diet. Wearing well-fitted, supportive bras can further promote the longevity of your results.

Can I breastfeed after a breast lift?

Those who were able to breastfeed before breast lift surgery will likely be able to breastfeed after their procedure as well. Trained and experienced plastic surgeons are usually able to mitigate any risks to your ability to breastfeed by avoiding causing any damage to the nipples and milk ducts. That said, it is important that you tell Dr. Rothfield about any plans you have regarding breastfeeding in the future so that he can tailor the surgery to best meet your needs. In many cases, it may be best that you wait until after you are done having children and breastfeeding to have a mastopexy, as both of those things can negatively impact your aesthetic results.
Are you interested in restoring the youthful appearance of your breasts? Contact our practice to schedule a complimentary consultation with Dr. Rothfield.