Gynecomastia (Male Breast Reduction)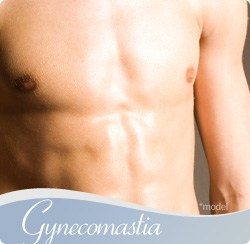 Gynecomastia, or overdevelopment of the male breasts, is an extremely common condition. It is seen in up to 64% of male adolescents. In the majority of these cases it resolves spontaneously, but occasionally it can persist and be the cause of embarrassment and inhibit participation in regular activities. It is also extremely common in men who have used steroids for body building and in men as they pass 50 years of age. Rarely, it may result from endocrine disorders or tumors.
The goal of the surgical treatment for gynecomastia is to lessen or eliminate the feminine appearance that results from excess breast tissue in men. Plastic surgeon Robert E. Rothfield, MD, FACS uses both excisional techniques and/or ultrasonic liposuction to sculpt the chest to achieve the most optimal masculine appearance. This is a procedure that is performed across the age spectrum from teenagers to healthy men in their eighties.
For more information about male breast reduction or to schedule a complimentary consultation with Dr. Rothfield, please contact Weston Plastic Surgery.
The Surgery
Outpatient…….Surgery Center of Weston
1 -2 hrs duration
Post Op visit the next day
The Recovery
Mild discomfort
Return to work/driving by 5th day
Light exercise at end of one week
Full exercise at end of two weeks
Wear chest garment for 6 weeks
Patient Forms