Gynecomastia (Male Breast Reduction)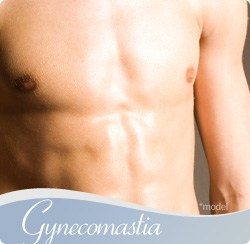 Gynecomastia, or overdevelopment of the male breasts, is an extremely common condition. It is seen in up to 64% of male adolescents. In the majority of these cases it resolves spontaneously, but occasionally it can persist and be the cause of embarrassment, inhibiting participation in regular activities. It is also extremely common in men who have used steroids for bodybuilding and in men as they pass 50 years of age. Rarely, it may result from endocrine disorders or tumors. For men with gynecomastia who want to achieve a more sculpted, masculine-looking chest, plastic surgeon Robert E. Rothfield, MD, FACS can create a customized surgical plan for male breast reduction.
What is Gynecomastia Surgery (Male Breast Reduction)?
The goal of the surgical treatment for gynecomastia is to lessen or eliminate the feminine appearance that results from excess breast tissue in men. Dr. Rothfield uses both excisional techniques and/or ultrasonic liposuction to sculpt the chest to achieve the most optimal masculine appearance. This is a procedure that is performed across the age spectrum from teenagers to healthy men in their eighties.
Am I a Candidate for Gynecomastia Surgery?
Men with gynecomastia experience breast enlargement often accompanied by swelling and tenderness; however, pseudogynecomastia (caused by the presence of fat tissue rather than glandular breast tissue) may also be addressed with surgery. Any male with gynecomastia or pseudogynecomastia who has exhausted other methods for reshaping the chest can potentially be a good candidate for male breast reduction. During a personal consultation, Dr. Rothfield will review your medical history and physically examine you to ensure you are healthy enough for the surgery. He will also determine whether your aesthetic concerns are caused by a predominance of breast tissue, fat, and/or excess skin to see which techniques are indicated for creating an optimal result. Once a plan is established, Dr. Rothfield will explain what you can expect at each phase of the treatment process so that you can make a fully educated decision about proceeding with surgery.
How Is the Male Breast Reduction Surgery Performed?
Male breast reduction surgery is performed under general anesthesia on an outpatient basis at the Surgery Center of Weston. Dr. Rothfield may utilize liposuction, excision techniques, or a combination of the two approaches to complete the procedure depending on the patient's needs. For liposuction sculpting of fat deposits in the breasts, Dr. Rothfield makes small incisions through which the ultrasonic liposuction cannula (a long thin metal rod) can be inserted. The ultrasound device is moved back and forth very slowly to break down fatty tissue by bursting the fat cell membranes. Once this fat is liquefied, it is then removed with a standard liposuction canula via suction through the same incisions. When excisional techniques are used to remove glandular breast tissue, Dr. Rothfield makes a curved incision along the lower border of the areola. Through this incision he may use liposuction to contour fat, followed by excision of breast tissue to create a smoother, flatter, tighter contour. For men with excess skin or diminished skin elasticity (usually older patients or those who have experienced significant weight loss), additional more intensive contouring techniques may be necessary to create a smooth, taut, lifted chest. Dr. Rothfield can discuss these techniques during your consultation if they apply to your condition.
The surgery itself usually takes about one to two hours to complete, and a post-operative visit is scheduled for the next day so that Dr. Rothfield can check on your progress.
What Is Recovery Like After Male Breast Reduction Surgery?
For the majority of men who undergo breast reduction surgery, discomfort following the procedure is typically described as mild and they are able to return to work and driving by the fifth day. At the end of a week, light exercise can be resumed, and within two weeks patients may return to full exercise. Please keep in mind that each patient's surgical plan and healing rate is unique and not all recoveries will adhere exactly to this timeline. It is recommended that patients wear their chest garment for six weeks to support proper healing.
How Much Does Male Breast Reduction Surgery Cost?
At Weston Plastic Surgery gynecomastia starts at $5,800; however, pricing can fluctuate based on the technique(s) used and the degree of enhancement required, so it is important to attend a consultation with Dr. Rothfield to receive a quote that is specific to your needs and goals. Once you and Dr. Rothfield agree on a custom surgical plan, you will be provided an accurate quote for the price of your procedure that includes the cost for Dr. Rothfield's surgeon fee, the surgical facility fees, anesthesia fees, as well as all post surgery office visits. If you are interested in plastic surgery financing to help with the cost of a procedure, we encourage you to explore CareCredit®, ALPHAEON™ CREDIT, or LendingUSA®. These trusted third-party lenders offer loans and flexible payment plans to qualified applicants to make plastic surgery and aesthetic treatments more accessible. We also accept payment with major credit cards and cash.
For more information about male breast reduction, or to schedule a complimentary consultation with Dr. Rothfield, please contact Weston Plastic Surgery.
Patient Forms for Male Breast Reduction Surgery