Tummy Tuck (Abdominoplasty)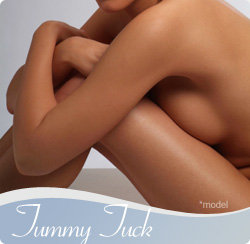 Just about any healthy woman who has gone through even a single pregnancy is a potential candidate for a tummy tuck. The effects of pregnancy vary from patient to patient but can affect women in a number of different ways. Loss of the waistline is one of the most common changes women notice. Whereas prior to pregnancy women may have more of an hourglass shape to their figure, after pregnancy, the body shape can become more square. Extra skin or stretch marks following pregnancy or weight loss can distort the abdomen and belly button, potentially creating a loose and unattractive appearance. Additionally, it is not uncommon for a bulge to develop in the lower abdomen after pregnancy. In extreme cases, this bulge can give the illusion that the woman is still expecting! Diet and exercise are typically not enough to adequately address any of these issues.
What Is a Tummy Tuck?
A tummy tuck is an operation performed by Ft. Lauderdale-area plastic surgeon Robert E. Rothfield, MD, FACS that can dramatically improve these abdominal changes through a combination of tightening the abdominal muscles and removing excess skin. With this procedure patients can have a more defined waist, a slimmer profile, a more proportionate body contour, and better clothing fit. This can be an appropriate operation for thin patients, heavy patients, and patients of all sizes in between. The age spectrum of patients undergoing tummy tucks varies from women in their twenties to women in their seventies.
What Are the Benefits of a Tummy Tuck?
Both men and women can enjoy the advantages a tummy tuck can offer. The potential benefits of this body contouring procedure include:
Removal of loose abdominal skin
Repair of stretched or torn abdominal muscles
Smooth skin at the lower stomach and abdomen
Reduced appearance of stretch marks
Correction of umbilical hernias
Slimmer, more toned waistline
For patients who also struggle with isolated pockets of excess fat at the lower abdomen, liposuction can be integrated into the tummy tuck procedure. When combined, these two procedures can achieve an even greater body transformation.

Doctor Rothfield is amazing. I'm really pleased for the results. I had a tummy tuck and after years of looking for the right time and the best plastic surgeon, I found doctor Rothfield who explained the procedure, pre and post steps in a very detailed way . I was really confident that everything would be great and it was. I highly recommend doctor Rothfield and his staff. No regrets , only great results .

katerina montesinos

July 01, 2018

12345
Who Is a Candidate for Tummy Tuck Surgery?
Tummy tuck candidates primarily seek to reduce excess skin or correct skin laxity on the abdomen. Since the tummy tuck procedure is not intended for weight loss, patients should already be at or near their ideal weight prior to surgery. Typical candidates have a body mass index (BMI) below 30. As with any surgery, patients should be in good overall health. Patients who use tobacco products should quit before surgery, as this can increase the risk of post-operative complications. Many candidates for tummy tuck surgery are women who have had one or more children. These women may choose to include tummy tuck surgery into a more comprehensive mommy makeover. Tummy tuck surgery can also be greatly beneficial for patients who have undergone bariatric surgery or lost a significant amount of weight and struggle with sagging, excess abdominal skin. In these cases, a tummy tuck may be combined with additional procedures as part of a post weight loss surgery.
How Is the Tummy Tuck Procedure Performed?
A one-on-one consultation with Dr. Rothfield is the first step of any tummy tuck procedure. During the consultation, Dr. Rothfield will perform a physical exam, carefully listen to your cosmetic goals, determine your candidacy for the procedure, and design a customized treatment plan that can meet your expectations. On the day of surgery, the procedure will begin with an incision made just above the pubic area. Dr. Rothfield will place the incision at a location that can be easily hidden by underwear or a swimsuit bottom. During surgery the stretched abdominal muscles can be tightened and the separation repaired. Liposuction can also be performed at this time if needed. The skin is then pulled taut and any excess skin is removed before the incision is closed. In many cases, c-section scars and stretch marks can be completely removed in this process. A tummy tuck surgery is typically completed in one hour. Tummy tuck surgery can be performed as an in-patient procedure performed by Dr. Rothfield at either Memorial West Hospital or Memorial Miramar Hospital, or as an outpatient procedure at the Surgery Center of Weston. All three locations are JCAHO (Joint Commission on Accreditation of Healthcare Organizations) accredited facilities and anesthesia is provided for by board certified anesthesiologists.
What Is Recovery from Tummy Tuck Surgery Like?
Patients can expect mild swelling, tightness, and moderate discomfort immediately following tummy tuck surgery. These side effects usually resolve within a few days, and the moderate discomfort can be easily managed with oral pain medication. Dr. Rothfield encourages walking immediately in the post-operative period. Patients who have undergone a c-section may find the recovery to be similar but in most cases, easier. Dr. Rothfield recommends that patients who have small children arrange for assistance during the first five days after surgery. In most cases, patients can drive again after six days. Within two weeks, patients should be able to return to work and resume light exercise. Normal exercise can be resumed after one month.

Great experience! Dr. Rothfield was very knowledgeable and comforting. Plastic surgery is a serious step that takes a lot of research, evaluating of risk vs reward etc. But no one can escape the scare of a surgery few days prior. I loved the fact that Dr. Rothfield and his staff was available to me at all times, spoke with me regarding my fears and made me feel very safe. My TT surgery went fast, easy and painless. Now (2 months later) I could not be happier with the result! I know I was in the right hands.

Nina Schneider

June 30, 2018

12345
For more information about tummy tuck surgery and potential risks associated with the procedure, please view our Informed Consent patient form. To schedule a complimentary consultation with Dr. Rothfield, please contact Weston Plastic Surgery.