How to Firm Sagging Breast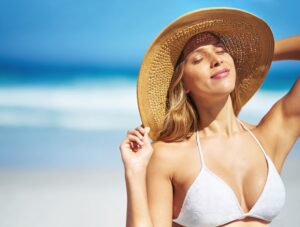 Breast ptosis is the medical term for drooping or sagging breasts. The condition occurs when both breast tissue firmness and surrounding skin elasticity become depleted, causing a drooping effect. Ptosis can develop at different stages of life and progress from a variety of factors, including heavier breast tissue weight, age, pregnancy, breastfeeding, weight fluctuations, genetics, and others. Sagging breasts are a common concern among women and can be a source of self-consciousness or embarrassment in certain situations. Fortunately, there are treatments available to improve the effects of ptosis and create a "perkier" breast appearance. Below, our board-certified plastic surgeon in Weston, Robert E. Rothfield, MD, FACS, details procedures that can help firm sagging breasts or enhance their size when volume has been lost over time.
One of the most effective cosmetic surgeries to reverse the symptoms of breast sagging is a mastopexy, also known as a breast lift. Dr. Rothfield performs this rejuvenating procedure to remove excess skin, tighten the remaining skin, and elevate the breasts higher on the chest wall to produce greater firmness and a more youthful projection. The procedure may also lift and reshape the areola and nipple areas for a balanced aesthetic improvement. With a healthy, active lifestyle after recovery, many women experience the skin tightening and lifting effects of a mastopexy procedure for many years to come.
When the primary cause of dissatisfaction with the breasts is from volume loss as opposed to inelastic skin, Dr. Rothfield might recommend a breast augmentation. This procedure is designed to restore previous breast fullness with the placement of breast implants. If desired, patients may also choose a size that creates an even fuller breast aesthetic than before
If sagging breasts are accompanied by a loss of breast volume, combining a breast lift with implants may be ideal to achieve a more comprehensive enhancement. During a personal consultation, Dr. Rothfield will thoroughly discuss the patient's cosmetic concerns and goals alongside a physical examination to ensure an agreed-upon treatment plan that offers the best chance for a beautiful, natural-looking outcome.
To learn more about restoring a youthful, rejuvenated breast appearance, or to schedule an appointment, please contact Weston Plastic Surgery.