Florida Plastic Surgeon on Customizing BOTOX® Cosmetic For Men and Women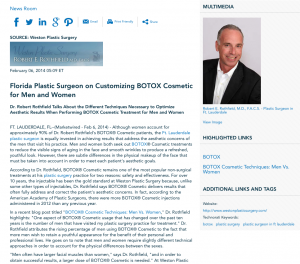 Dr. Robert Rothfield talks about the different techniques necessary to optimize aesthetic results when performing BOTOX® Cosmetic treatment for men and women.
Ft. Lauderdale – Although women account for approximately 90% of Dr. Robert Rothfield's BOTOX® Cosmetic patients, the Ft. Lauderdale plastic surgeon is equally invested in achieving results that address the aesthetic concerns of the men that visit his practice. Men and women both seek out BOTOX® Cosmetic treatments to reduce the visible signs of aging in the face and smooth wrinkles to produce a refreshed, youthful look. However, there are subtle differences in the physical makeup of the face that must be taken into account in order to meet each patient's aesthetic goals.
According to Dr. Rothfield, BOTOX® Cosmetic remains one of the most popular non-surgical treatments at his plastic surgery practice for two reasons: safety and effectiveness. For over 10 years, the injectable has been the gold standard at Weston Plastic Surgery because, unlike some other types of injectables, Dr. Rothfield says BOTOX® Cosmetic delivers results that often fully address and correct the patient's aesthetic concerns. In fact, according to the American Academy of Plastic Surgeons, there were more BOTOX® Cosmetic injections administered in 2012 than any previous year.
In a recent blog post titled "BOTOX® Cosmetic Techniques: Men Vs. Women," Dr. Rothfield highlights: "One aspect of BOTOX® Cosmetic usage that has changed over the past ten years is the number of men that have visited my plastic surgery practice for treatment." Dr. Rothfield attributes the rising percentage of men using BOTOX® Cosmetic to the fact that more men wish to retain a youthful appearance for the benefit of their personal and professional lives. He goes on to note that men and women require slightly different technical approaches in order to account for the physical differences between the sexes.
"Men often have larger facial muscles than women," says Dr. Rothfield, "and in order to obtain successful results, a larger dose of BOTOX® Cosmetic is needed." At Weston Plastic Surgery, women most commonly seek BOTOX® Cosmetic treatment for fine lines that have formed around the eyes and the creases that form between the eyebrows. In addition to treating those vertical creases between the eyebrows, men also typically treat the horizontal lines that can appear on the forehead. Dr. Rothfield emphasizes: "Mastering these subtle differences in technique are vital for delivering results that meet the expectations of the patient."
About Robert E. Rothfield, M.D., F.A.C.S.
Dr. Rothfield is a graduate of Haverford College and earned his medical degree from the University of Miami. He serves as the Chief of Plastic Surgery at Memorial West Hospital in Pembroke Pines, Florida and is certified by both the American Board of Plastic Surgery and the American Board of Otolaryngology. Dr. Rothfield is available for interview upon request.
For more information about Dr. Rothfield and Weston Plastic Surgery, visit westonplasticsurgery.com, plus.google.com/104300075271703965076/about, and facebook.com/pages/Weston-Plastic-Surgery-Inc/134896541333.
Contact:
Weston Plastic Surgery
2300 N. Commerce Parkway
Suite 202
Weston, FL 33326
866-417-6996
Rosemont Media
[email protected]
(858) 200-0044
www.rosemontmedia.com