Florida Plastic Surgeon Dispels Misinformation About Labiaplasty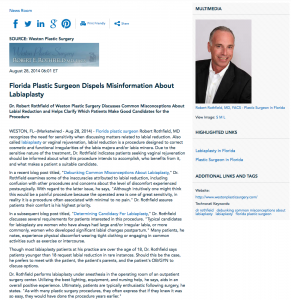 Dr. Robert Rothfield of Weston Plastic Surgery discusses common misconceptions about labial reduction and helps clarify which patients make good candidates for the procedure.
Weston, FL—Florida plastic surgeon Robert Rothfield, MD recognizes the need for sensitivity when discussing matters related to labial reduction. Also called labiaplasty or vaginal rejuvenation, labial reduction is a procedure designed to correct cosmetic and functional irregularities of the labia majora and/or labia minora. Due to the sensitive nature of the treatment, Dr. Rothfield indicates patients seeking vaginal rejuvenation should be informed about what this procedure intends to accomplish, who benefits from it, and what makes a patient a suitable candidate.
In a recent blog post titled, "Debunking Common Misconceptions About Labiaplasty," Dr. Rothfield examines some of the inaccuracies attributed to labial reduction, including confusion with other procedures and concerns about the level of discomfort experienced postsurgically. With regard to the latter issue, he says, "Although intuitively one might think this would be a painful procedure because the operated area is one of great sensitivity, in reality it is a procedure often associated with minimal to no pain." Dr. Rothfield assures patients their comfort is his highest priority.
In a subsequent blog post titled, "Determining Candidacy For Labiaplasty," Dr. Rothfield discusses several requirements for patients interested in this procedure. "Typical candidates for labiaplasty are women who have always had large and/or irregular labia, or more commonly, women who developed significant labial changes postpartum." Many patients, he notes, experience physical discomfort wearing tight clothing or engaging in common activities such as exercise or intercourse.
Though most labiaplasty patients at his practice are over the age of 18, Dr. Rothfield says patients younger than 18 request labial reduction in rare instances. Should this be the case, he prefers to meet with the patient, the patient's parents, and the patient's OB/GYN to discuss options.
Dr. Rothfield performs labiaplasty under anesthesia in the operating room of an outpatient surgery center. Utilizing the best lighting, equipment, and nursing help, he says, aids in an overall positive experience. Ultimately, patients are typically enthusiastic following surgery, he states. "As with many plastic surgery procedures, they often express that if they knew it was so easy, they would have done the procedure years earlier."
About Robert Rothfield, MD, FACS
Certified by the American Board of Plastic Surgery and the American Board of Otolaryngology, Dr. Rothfield offers a comprehensive range of cosmetic surgery procedures, including abdominoplasty, breast augmentation, and rhytidectomy. He earned his medical degree from the University of Miami – Miller School of Medicine and subsequently completed eight years of specialized training in plastic surgery before achieving the position of Chief of Plastic Surgery at Memorial West Hospital in Pembroke Pines, FL. He is also an active member of several prestigious organizations, including the American Society of Plastic Surgeons and the American College of Surgeons. Dr. Rothfield is available for interview upon request.
For more information about Dr. Rothfield and Weston Plastic Surgery, visit westonplasticsurgery.com, plus.google.com/104300075271703965076/about, and facebook.com/pages/Weston-Plastic-Surgery-Inc/134896541333.
Contact:
Weston Plastic Surgery
2300 N. Commerce Pkwy St. 202
Weston, FL 33326
(866) 417-6996
Rosemont Media
(858) 200-0044