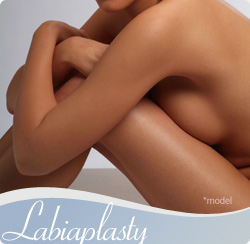 Labial enlargement can have a significant impact on a patient's quality of life. It may result in both physical discomfort and emotional distress. For these reasons, many women choose to undergo labiaplasty. Also referred to as labial reduction or labial rejuvenation, labiaplasty is a procedure that decreases the size of the labia minora by removing or repositioning tissue. The surgery offers both cosmetic and functional benefits to boost both comfortability and confidence. 
While labiaplasty is statistically safe and generally successful, undergoing the procedure is a major decision that often requires a lot of consideration. Our plastic surgeon, Robert E. Rothfield, MD, and his staff understand that this is an extremely private and personal issue and will treat you with the utmost care and sensitivity to put you at ease. 
Who Is a Good Candidate for Labiaplasty?
Labiaplasty candidates are usually women who have aesthetic or functional concerns about the condition of labial tissues. These tissues can elongate and/or lose elasticity due to childbirth, aging, or other issues. Some women desire a less prominent labia in the interest of feeling more youthful, while many others experience physical discomfort and/or self-consciousness caused by enlarged labial tissues. Some individuals may suffer from irritation and general discomfort while having intercourse, wearing certain types of pants, exercising, or even just sitting down. Labiaplasty can often successfully address these concerns. 
During your initial consultation, Dr. Rothfield can evaluate your needs and talk with you about your goals to help determine whether this treatment is an ideal solution. 
How Is the Labiaplasty Procedure Performed?
Depending on the patient,  a combination of different surgical techniques may be recommended to effectively meet an individual's specific concerns and goals. The labiaplasty procedure is performed as an outpatient surgery under general anesthesia. Our patients have this surgery performed at the Surgery Center of Weston. Labiaplasty rarely takes longer than 30-45 minutes to complete, and most patients are able to go home the same day. The surgery is performed with dissolvable stitches.
What Is Labiaplasty Recovery Like?
While many flinch at the thought of labiaplasty considering the sensitive area it addresses, it is not a particularly painful procedure, nor does it require an extensive healing process. Mild swelling, bruising, and soreness can be expected, but should subside within a few days. Most patients are advised not to exercise until at least a week after the surgery, and most individuals should wait a minimum of two weeks before resuming sexual relations. Dr. Rothfield will provide detailed post-operative instructions based on each patient's unique needs to ensure the smoothest recovery possible. 
How Much Does Labiaplasty Cost?
The cost of labiaplasty typically falls in the range of $5,400 to $6,400 at our practice, based on the extent of treatment, the techniques being utilized, and other factors. Once the customized treatment plan is developed, we will calculate a total estimate and present it to you for review. Dr. Rothfield offers several payment options, including financing for qualified applicants via CareCredit®, to help his patients receive the treatment they need in a way that is convenient for their budget. We will be happy to discuss these options at your first appointment.
To learn more about labiaplasty surgery or to schedule a complimentary consultation with Dr. Rothfield, please contact us at Weston Plastic Surgery today.