Common Inaccuracies About Breast Implant Removal Addressed by Florida Plastic Surgeon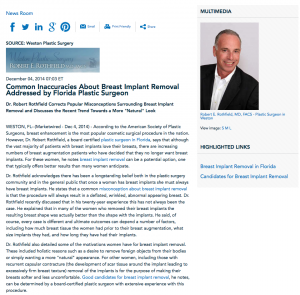 Dr. Robert Rothfield corrects popular misconceptions surrounding breast implant removal and discusses the recent trend towards a more "natural" look.
Weston, FL—According to the American Society of Plastic Surgeons, breast enhancement is the most popular cosmetic surgical procedure in the nation. However, Dr. Robert Rothfield, aboard certified plastic surgeon in Florida, says that although the vast majority of patients with breast implants love their breasts, there are increasing numbers of breast augmentation patients  who have decided that they no longer want breast implants. For these women, he notes breast implant removal can be a potential option, one that typically offers better results than many women anticipate.
Dr. Rothfield acknowledges there has been a longstanding belief both in the plastic surgery community and in the general public that once a woman has breast implants she must always have breast implants. He states that a common misconception about breast implant removal is that the procedure will always result in a deflated, wrinkled, abnormal appearing breast. Dr. Rothfield recently discussed that in his twenty-year experience this has not always been the case. He explained that in many of the women who removed their breast implants the resulting breast shape was actually better than the shape with the implants. He said, of course, every case is different and ultimate outcomes can depend a number of factors, including how much breast tissue the women had prior to their breast augmentation, what size implants they had, and how long they have had their implants.
Dr. Rothfield also detailed some of the motivations women have for breast implant removal. These included holistic reasons such as a desire to remove foreign objects from their bodies or simply wanting a more "natural" appearance. For other women, including those with recurrent capsular contracture (the development of scar tissue around the implant leading to excessively firm breast texture) removal of the implants is for the purpose of making their breasts softer and less uncomfortable. Good candidates for breast implant removal, he notes, can be determined by a board-certified plastic surgeon with extensive experience with this procedure.
Dr Rothfield says that the procedure typically requires a much shorter recovery period than breast augmentation and, unlike breast augmentation, is usually associated with minimal discomfort. "Most people take a day or two off work and then resume regular activities. Exercise often can be resumed after a week."
Dr. Rothfield says he strives to dispel misinformation associated with cosmetic enhancement topics including breast implant removal. As a result, he maintains, more patients can better manage expectations and achieve their aesthetic goals. "In the vast majority of patients, simply removing the breast implants results in a breast form that is much better than what is predicted by historical anecdotes, and no further surgery is desired or required."
About Robert E. Rothfield, MD, FACS
Certified by the American Board of Plastic Surgery, Dr. Rothfield is Chief of Plastic Surgery at Memorial West Hospital in Pembroke Pines, FL and founder of Weston Plastic Surgery, Inc. He earned his medical degree from University of Miami before completing eight years of additional surgical training. He is a member of several esteemed medical organizations, including the American College of Surgeons,American Society for Aesthetic Plastic Surgery, American Society of Plastic Surgeons,Southeastern Society of Plastic and Reconstructive Surgeons, Florida Society of Plastic Surgeons, and the Broward County Society of Plastic Surgeons. Dr. Rothfield is available for interview upon request.
For more information about Dr. Rothfield and Weston Plastic Surgery, please visit westonplasticsurgery.com, plus.google.com/104300075271703965076/about, and facebook.com/pages/Weston-Plastic-Surgery-Inc/134896541333.
Contact:
Weston Plastic Surgery
2300 N. Commerce Pkwy., Ste. 202
Weston, FL 33326
(866) 417-6996
Rosemont Media
(858) 200-0044
www.rosemontmedia.com