Florida Plastic Surgeon Prioritizes Safety And Results For Eyelid Surgery Patients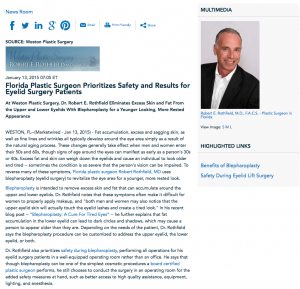 At Weston Plastic Surgery, Dr. Robert E. Rothfield eliminates excess skin and fat from the upper and lower eyelids with blepharoplasty for a younger looking, more rested appearance.
Weston, FL – Fat accumulation, excess and sagging skin, as well as fine lines and wrinkles all typically develop around the eye area simply as a result of the natural aging process. These changes generally take effect when men and women enter their 50s and 60s, though signs of age around the eyes can manifest as early as a person's 30s or 40s. Excess fat and skin can weigh down the eyelids and cause an individual to look older and tired – sometimes the condition is so severe that the person's vision can be impaired. To reverse many of these symptoms, Florida plastic surgeon Robert Rothfield, MD uses blepharoplasty (eyelid surgery) to revitalize the eye area for a younger, more rested look.
Blepharoplasty is intended to remove excess skin and fat that can accumulate around the upper and lower eyelids. Dr. Rothfield notes that these symptoms often make it difficult for women to properly apply makeup, and "both men and women may also notice that the upper eyelid skin will actually touch the eyelid lashes and create a tired look." In his recent blog post – "Blepharoplasty: A Cure For Tired Eyes" – he further explains that fat accumulation in the lower eyelid can lead to dark circles and shadows, which may cause a person to appear older than they are. Depending on the needs of the patient, Dr. Rothfield says the blepharoplasty procedure can be customized to address the upper eyelid, the lower eyelid, or both.
Dr. Rothfield also prioritizes safety during blepharoplasty, performing all operations for his eyelid surgery patients in a well-equipped operating room rather than an office. He says that though blepharoplasty can be one of the simplest cosmetic procedures aboard certified plastic surgeon performs, he still chooses to conduct the surgery in an operating room for the added safety measures at hand, such as better access to high quality assistance, equipment, lighting, and anesthesia.
Blepharoplasty patients often look significantly younger after their procedure, notes Dr. Rothfield. Patients of all ages generally report feeling a boost in self-confidence that accompanies their more youthful look. After seeing the positive results of their blepharoplasty, Dr. Rothfield says many of his patients return for additional procedures to achieve an even more comprehensive facial rejuvenation.
About Robert E. Rothfield, M.D., F.A.C.S.
A graduate of Haverford College, Dr. Rothfield earned his medical degree from the University of Miami School of Medicine. He is board-certified by the American Board of Plastic Surgery. In addition to leading Weston Plastic Surgery, Dr. Rothfield currently serves as the Chief of Plastic Surgery at Memorial West Hospital in Pembroke Pines, Florida. He is also a member of several medical organizations, including the American Society for Aesthetic Plastic Surgery and the American Society of Plastic Surgeons. Dr. Rothfield is available for interview upon request.
To learn more about Dr. Rothfield and his practice, please visit westonplasticsurgery.com and facebook.com/pages/Weston-Plastic-Surgery-Inc/134896541333.
Contact:
Weston Plastic Surgery
2300 N. Commerce Parkway
Suite 202
Weston, FL 33326
866-417-6996
Rosemont Media
(858) 200-0044
www.rosemontmedia.com