Weston Plastic Surgeon Discusses Breast Implant Removal Options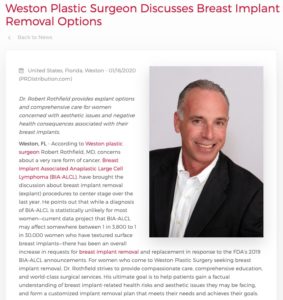 Dr. Robert Rothfield provides explant options and comprehensive care for women concerned with aesthetic issues and negative health consequences associated with their breast implants.
Weston, FL – According to Weston plastic surgeon Robert Rothfield, MD, concerns about a very rare form of cancer, Breast Implant Associated Anaplastic Large Cell Lymphoma (BIA-ALCL), have brought the discussion about breast implant removal (explant) procedures to center stage over the last year. He points out that while a diagnosis of BIA-ALCL is statistically unlikely for most women—current data project that BIA-ALCL may affect somewhere between 1 in 3,800 to 1 in 30,000 women who have textured surface breast implants—there has been an overall increase in requests for breast implant removal and replacement in response to the FDA's 2019 BIA-ALCL announcements. For women who come to Weston Plastic Surgery seeking breast implant removal, Dr. Rothfield strives to provide compassionate care, comprehensive education, and world-class surgical services. His ultimate goal is to help patients gain a factual understanding of breast implant-related health risks and aesthetic issues they may be facing, and form a customized implant removal plan that meets their needs and achieves their goals.
With more than 25 years of experience performing a wide range of cosmetic and reconstructive breast surgeries, Dr. Rothfield has developed a reputation for achieving outstanding results in even the most complex breast explant and revision procedures. When it comes to removing breast implants, women have several surgical options to choose from that can effectively address health concerns and restore a natural-looking breast appearance. Dr. Rothfield emphasizes that each patient's unique circumstances, health status, and goals determine which explant procedure is most suitable for achieving the desired outcome. For many women, it is necessary to combine the explant procedure with capsulectomy techniques to remove the scar tissue capsule surrounding each implant. Depending on the type of capsulectomy performed, Dr. Rothfield says the advantages can include a more aesthetically pleasing outcome and/or health benefits.
According to Dr. Rothfield, the first phase of treatment starts with a comprehensive evaluation to specifically ascertain the condition of the breast implants, identify aesthetic/structural irregularities, and diagnose any breast implant-related health concerns, such as BIA-ALCL. Based on the findings, he may recommend a simple explant procedure or explant combined with either a partial or full capsulectomy when the tissue has become thick and/or physically apparent (as with some cases of capsular contracture). When BIA-ALCL is diagnosed and/or silicone implant rupture has occurred, a state-of-the-art procedure called en bloc capsulectomy may be appropriate. This technique involves the removal of the entire intact capsule with the implant contained inside to ensure full removal of scar tissue and prevent leakage of silicone from inside the capsule. While some patients may request en bloc capsulectomy to prevent BIA-ALCL, Dr. Rothfield points out that current scientific data does not necessarily support this approach and patients should be aware that en bloc capsulectomy is an intensive procedure that carries risks, which may outweigh the benefits. He emphasizes that the patient's safety and health should always be the top priority when considering treatment options.
In addition to an explant procedure, Dr. Rothfield explains that patients may opt to include the placement of new implants and/or a breast lift to restore natural-looking breast volume and shape. These techniques can often be performed during the same operation as the explant procedure, though in some cases a phased approach may be most suitable.
When choosing a plastic surgeon to remove breast implants, Dr. Rothfield encourages women to select an experienced board-certified plastic surgeon with proven experience performing the procedures they are considering. Breast revision surgery and procedures like en bloc capsulectomy are extremely complex and demand advanced surgical skill to complete safely and successfully.
About Robert E. Rothfield, MD, FACS
Dr. Robert Rothfield is the Medical Director of Weston Plastic Surgery and performs a wide range of surgical procedures for the face, breasts, body, and skin. He has more than 25 years of experience in private practice and is board-certified by the American Board of Plastic Surgery.
Dr. Rothfield completed his undergraduate education at Haverford College and earned his medical degree from the University of Miami School of Medicine. He is a member of several prominent professional organizations, including the American Society for Aesthetic Plastic Surgery (ASAPS) and the American Society of Plastic Surgeons (ASPS). Dr. Rothfield serves as the Chief of Plastic Surgery at Memorial West Hospital in Pembroke Pines, Florida. Dr. Rothfield is available for interview upon request.
To learn more about Dr. Rothfield and his practice, please visit westonplasticsurgery.com and facebook.com/Westonplasticsurgery.
Contact:
Weston Plastic Surgery
2300 N. Commerce Parkway
Suite 202
Weston, FL 33326
866-417-6996
Rosemont Media
(858) 200-0044
www.rosemontmedia.com