Ft. Lauderdale Plastic Surgeon Helps Moms Restore Pre-Pregnancy Figures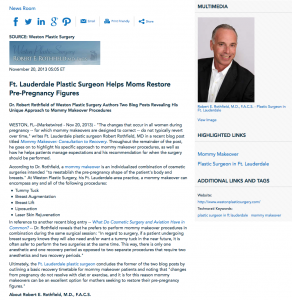 Dr. Robert Rothfield of Weston Plastic Surgery authors two blog posts revealing his unique approach to mommy makeover procedures
Weston, FL — "The changes that occur in all women during pregnancy – for which mommy makeovers are designed to correct – do not typically revert over time," writes Ft. Lauderdale plastic surgeon Robert Rothfield, MD in a recent blog post titled Mommy Makeover: Consultation to Recovery. Throughout the remainder of the post, he goes on to highlight his specific approach to mommy makeover procedures, as well as how he helps patients manage expectations and his recommendation for when the surgery should be performed.
According to Dr. Rothfield, a mommy makeover is an individualized combination of cosmetic surgeries intended "to reestablish the pre-pregnancy shape of the patient's body and breasts." At Weston Plastic Surgery, his Ft. Lauderdale-area practice, a mommy makeover can encompass any and all of the following procedures:
Tummy Tuck
Breast Augmentation
Breast Lift
Liposuction
Laser Skin Rejuvenation
In reference to another recent blog entry – What Do Cosmetic Surgery and Aviation Have in Common? – Dr. Rothfield reveals that he prefers to perform mommy makeover procedures in combination during the same surgical session: "In regard to surgery, if a patient undergoing breast surgery knows they will also need and/or want a tummy tuck in the near future, it is often safer to perform the two surgeries at the same time. This way, there is only one anesthetic and one recovery period as opposed to two separate procedures that require two anesthetics and two recovery periods."
Ultimately, the Ft. Lauderdale plastic surgeon concludes the former of the two blog posts by outlining a basic recovery timetable for mommy makeover patients and noting that "changes from pregnancy do not resolve with diet or exercise, and it is for this reason mommy makeovers can be an excellent option for mothers seeking to restore their pre-pregnancy figures."
About Robert E. Rothfield, M.D., F.A.C.S.
A graduate of Haverford College, Dr. Rothfield earned his medical degree from the University of Miami School Medicine. He is currently the Chief of Plastic Surgery at Memorial West Hospital in Pembroke Pines, Florida and a member of several prestigious medical organizations including the American Society of Plastic Surgeons, among others. Dr. Rothfield is also certified by both the American Board of Plastic Surgery and the American Board of Otolaryngology. He is available for interview upon request.
For more information about Dr. Rothfield and Weston Plastic Surgery, visit westonplasticsurgery.com, plus.google.com/104300075271703965076/about, and facebook.com/pages/Weston-Plastic-Surgery-Inc/134896541333.
Contact:
Weston Plastic Surgery
2300 N. Commerce Parkway
Suite 202
Weston, FL 33326
866-417-6996
Rosemont Media
[email protected]
(858) 200-0044
www.rosemontmedia.com