Ft. Lauderdale Plastic Surgeon Listed On Regional "Top Doctors" List for 2013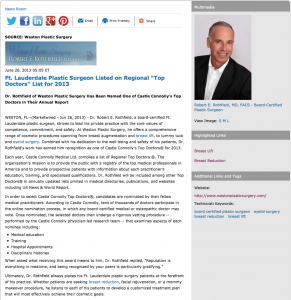 Dr. Rothfield of Weston Plastic Surgery has been named one of Castle Connolly's Top Doctors® in their annual report.
Weston, FL – Dr. Robert E. Rothfield, a board-certified Ft. Lauderdale plastic surgeon, strives to lead his private practice with the core values of competence, commitment, and safety. At Weston Plastic Surgery, he offers a comprehensive range of cosmetic procedures spanning from breast augmentation and breast lift, to tummy tuck and eyelid surgery. Combined with his dedication to the well-being and safety of his patients, Dr. Rothfield's work has earned him recognition as one of Castle Connolly's Top Doctors® for 2013.
Each year, Castle Connolly Medical Ltd. compiles a list of Regional Top Doctors ®. The organization's mission is to provide the public with a registry of the top medical professionals in America and to provide prospective patients with information about each practitioner's education, training, and specialized qualifications. Dr. Rothfield will be included among other Top Doctors® in annually updated lists printed in medical directories, publications, and websites including US News & World Report.
In order to select Castle Connolly Top Doctors®, candidates are nominated by their fellow medical practitioners. According to Castle Connolly, tens of thousands of doctors participate in the online nomination process, in which any board-certified medical or osteopathic doctor may vote. Once nominated, the selected doctors then undergo a rigorous vetting procedure – performed by the Castle Connolly physician-led research team – that examines aspects of each nominee including:
Medical education
Training
Hospital Appointments
Disciplinary histories
When asked what receiving this award means to him, Dr. Rothfield replied, "Reputation is everything in medicine, and being recognized by your peers is particularly gratifying."
Ultimately, Dr. Rothfield always places his Ft. Lauderdale plastic surgery patients at the forefront of his practice. Whether patients are seeking breast reduction, facial rejuvenation, or a mommy makeover procedure, he listens to each of his patients to develop a customized treatment plan that will most effectively achieve their cosmetic goals.
About Robert E. Rothfield, MD, FACS
Dr. Robert Rothfield is a board-certified plastic surgeon and has led Weston Plastic Surgery since 1994. He is a graduate of Haverford College and earned his medical degree at the University of Miami. After finishing his general surgery internship at Western Pennsylvania Hospital, Dr. Rothfield went on to complete his Otolaryngology Residency at the University of Pittsburgh Eye & Ear Institute. Additionally, he completed both a residency in plastic surgery and a fellowship in hand surgery at the Baylor College of Medicine. Dr. Rothfield is available for interview upon request.