Ft. Lauderdale Plastic Surgeon Reveals Simple At-Home Test For People Considering Facelift Surgery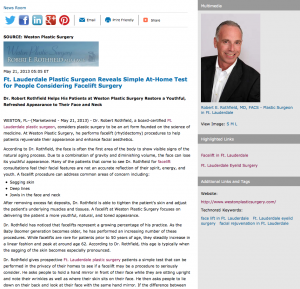 Dr. Robert Rothfield helps his patients at Weston Plastic Surgery restore a youthful, refreshed appearance to their face and neck.
Weston, FL – Dr. Robert Rothfield, a board-certified Ft. Lauderdale plastic surgeon, considers plastic surgery to be an art form founded on the science of medicine. At Weston Plastic Surgery, he performs facelift (rhytidectomy) procedures to help patients rejuvenate their appearance and enhance facial aesthetics.
According to Dr. Rothfield, the face is often the first area of the body to show visible signs of the natural aging process. Due to a combination of gravity and diminishing volume, the face can lose its youthful appearance. Many of the patients that come to see Dr. Rothfield for facelift consultations feel their facial features are not an accurate reflection of their spirit, energy, and youth. A facelift procedure can address common areas of concern including:
Sagging skin
Deep lines
Jowls in the face and neck
After removing excess fat deposits, Dr. Rothfield is able to tighten the patient's skin and adjust the patient's underlying muscles and tissues. A facelift at Weston Plastic Surgery focuses on delivering the patient a more youthful, natural, and toned appearance.
Dr. Rothfield has noticed that facelifts represent a growing percentage of his practice. As the Baby Boomer generation becomes older, he has performed an increasing number of these procedures. While facelifts are rare for patients prior to 50 years of age, they steadily increase in a linear fashion and peak at around age 62. According to Dr. Rothfield, this age is typically when the sagging of the skin becomes especially pronounced.
Dr. Rothfield gives prospective Ft. Lauderdale plastic surgery patients a simple test that can be performed in the privacy of their homes to see if a facelift may be a procedure to seriously consider. He asks people to hold a hand mirror in front of their face while they are sitting upright and note their wrinkles as well as where their skin sits on their face. He then asks people to lie down on their back and look at their face with the same hand mirror. If the difference between how they look sitting up versus lying down is significant, they are likely candidates for a facelift.
"The term 'facelift' is really a misnomer," says Dr. Rothfield. "It is not an operation that simply addresses aesthetic concerns of the face—it also addresses the neck." He also highlights that when patients combine a facelift with eyelid surgery or brow surgery, they can achieve even more significant facial rejuvenation.
About Robert E. Rothfield, MD, FACS
Dr. Robert Rothfield is a graduate of Haverford College and earned his medical degree at the University of Miami. He is a board-certified plastic surgeon and leads Weston Plastic Surgery, his private practice. Dr. Rothfield is available for interview upon request.