Ft. Lauderdale Plastic Surgeon Overviews Breast Reduction Procedures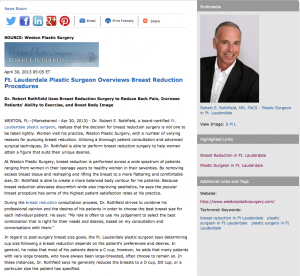 Dr. Robert Rothfield uses breast reduction surgery to reduce back pain, increase patients' ability to exercise, and boost body image.

Weston, FL – Dr. Robert E. Rothfield, a board-certified Ft. Lauderdale plastic surgeon, realizes that the decision for breast reduction surgery is not one to be taken lightly. Women visit his practice, Weston Plastic Surgery, with a number of varying reasons for pursuing breast reduction. Utilizing a thorough patient consultation and advanced surgical techniques, Dr. Rothfield is able to perform breast reduction surgery to help women attain a figure that suits their unique desires.
At Weston Plastic Surgery, breast reduction is performed across a wide spectrum of patients ranging from women in their teenage years to healthy women in their seventies. By removing excess breast tissue and reshaping and lifting the breast to a more flattering and comfortable size, Dr. Rothfield is able to create a more balanced body contour for his patients. Because breast reduction alleviates discomfort while also improving aesthetics, he says the popular breast procedure has some of the highest patient satisfaction rates at his practice.
During the breast reduction consultation process, Dr. Rothfield strives to combine his professional opinion and the desires of his patients in order to choose the best breast size for each individual patient. He says: "My role is often to use my judgement to select the best combination that is right for their needs and desires, based on my consultation and conversations with them."
In regard to post-surgery breast size goals, the Ft. Lauderdale plastic surgeon says determining cup size following a breast reduction depends on the patient's preferences and desires. In general, he notes that most of his patients desire a C cup; however, he adds that many patients with very large breasts, who have always been large-breasted, often choose to remain so. In these instances, Dr. Rothfield says he generally reduces the breasts to a D cup, DD cup, or a particular size the patient has specified.
Dr. Rothfield also sees patients who he says have felt tormented from their breasts having been large for so many years and want them as small as possible. According to him, these patients often seek to reduce back discomfort, maximize their ability to exercise, and boost their body image. Dr. Rothfield reveals that in these instances, a breast reduction is typically performed with the direction of the patient, usually to a B or C cup, or again, whatever they specifically desire.
Following a breast reduction procedure, Dr. Rothfield notes that patients will often experience mild discomfort but will typically be able to drive and return to work within five days. After two weeks, he says breast reduction patients can resume light exercise, and after one month they can resume their normal levels of physical activity.
Ultimately, Dr. Rothfield's unique approach to breast reduction combines an artistic eye with a listener's ear. In the end, he makes sure his Ft. Lauderdale plastic surgery patients have realistic expectations for their results and recovery period before undergoing their breast reduction procedure.
About Robert E. Rothfield, MD, FACS

Dr. Robert Rothfield is a board-certified plastic surgeon practicing in the Ft. Lauderdale area. He is a graduate of Haverford College and earned his medical degree at the University of Miami. Dr. Rothfield offers a variety of cosmetic treatments and procedures ranging from breast augmentation and breast reduction, to liposuction and dermal fillers. In addition to leading Weston Plastic Surgery, his private practice, he serves as the Chief of Plastic Surgery at Memorial West Hospital in Pembroke Pines, Florida. Dr. Rothfield is available for interview upon request.