Minimally Invasive Procedures
Minimally invasive procedures are the most common cosmetic procedures performed in the United States today. They typically require no specific patient preparation or down time. There is no restriction to normal activities and in most instances they do not even require sedation or anesthesia. Among the most common minimally invasive procedures that our plastic surgeon Dr. Rothfield performs are BOTOX® Cosmetic injections and injections with fillers such as Restylane®, Perlane® , and JUVÉDERM®.
BOTOX® Cosmetic
*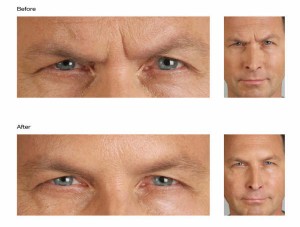 BOTOX® Cosmetic is an FDA approved drug that is used to temporarily treat dynamic wrinkles of the forehead and eyes to give a more youthful and refreshed appearance. This highly purified, naturally occurring protein called botulinum toxin, works by blocking the nerve impulses to the muscles of the face that produce wrinkling. Over the last ten years millions of BOTOX® Cosmetic injections have been performed. It has become the world's most popular cosmetic procedure because of its predictable effects and excellent safety profile.
Dr. Rothfield is board certified in plastic surgery by the American Board of Plastic Surgery. He specializes in cosmetic surgery and has performed thousands of BOTOX® Cosmetic injections. These injections are not relegated to a nurse or assistant, but are all performed by Dr. Rothfield himself to assure the most consistent results. In addition, because fresh BOTOX® Cosmetic is essential to achieve the longest lasting results, all patients receive BOTOX® Cosmetic that has been freshly mixed.
Treatment involves several injections with a tiny needle. Patients describe the injection sensation as that of a bug bite, or a burning or crunching feeling. No sedation or anesthesia is necessary and normal activities can be resumed immediately that same day. Occasionally, patients will experience bruising in the injected areas .The effects are typically seen one to five days later. All patients are given the option to return a week later for a complimentary touch up if it is necessary. The effects of the BOTOX® Cosmetic injections last three to four months and in some cases even longer.
*Individual Results May Vary
Patient Forms
Injectable Fillers
*


Fillers are crystal clear injectable gels that are used to fill nondynamic wrinkles of the face. These are the wrinkles that are present even when you are not smiling or animating. The most commonly used fillers are Restylane®, Perlane®, and JUVÉDERM®. These are FDA-approved purified, naturally occurring polysaccharides, called hyaluronic acids, that are found in all living cells. Hyaluronic acid is one of the main components of the dermis connective tissue matrix. By injecting these gels into the dermis, wrinkles can actually be smoothed out. Areas that are particularly well suited to these treatments include the lines and folds along the face and mouth. Crow's feet and frown lines that persist even after BOTOX® Cosmetic treatment may also be good indications for these fillers.
*


Other dermal fillers, or fat, or other tissue that is harvested from your own body may also be used . The particular choice of filler will depend on your particular needs and Dr. Rothfield's assessment.
Fillers can also be used for lip enhancement to add volume to thin lips, create better definition to the borders of the lips, or fill in some of the vertical lines along the lip that develop with age.
Treatment involves several injections with a tiny needle. These injections are not relegated to a nurse or assistant, but are all done by Dr. Rothfield himself to assure the most consistent results. Cool compresses are often applied to the areas being injected just prior to the injection to limit discomfort. When the lips are injected, a local anesthetic may be injected to minimize patient discomfort. After treatment there may be some itching, redness, swelling, or tenderness that is normal and temporary. Swelling of the lips can last up to a week. The results of these injections are instantaneous and can last up to twelve months depending upon which fillers are being used.
Patient Forms
 For more information on BOTOX™ Cosmetic, Restylane™, or any other minimally invasive procedure, or to schedule an appointment with Dr. Rothfield, please contact us at Weston Plastic Surgery.